Peace of Mind is a program of Metiv | The Israel Psychotrauma Center
Metiv promotes healthy coping and post-traumatic growth within Israeli society through innovative evidence based interventions, training and research.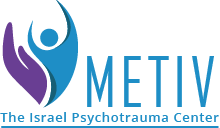 Herzog Israel Center for the Treatment of Psychotrauma (Metiv) is an affiliate of Sarah Herzog Hospital. Established in 1894, Herzog Hospital is Israel's foremost center for geriatric, respiratory, mental health and psychotrauma care, treatment and research.