Peace of Mind is a program of Metiv | The Israel Psychotrauma Center
Metiv promotes healthy coping and post-traumatic growth within Israeli society through innovative evidence based interventions, training and research.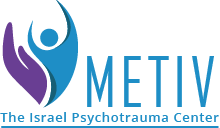 Herzog Israel Center for the Treatment of Psychotrauma (Metiv) is an affiliate of Sarah Herzog Hospital. Established in 1894, Herzog Hospital is Israel's foremost center for geriatric, respiratory, mental health and psychotrauma care, treatment and research.

Anna Harwood-Gross, ph.D
Director of Research
Anna received her Ph.D in Clinical Psychology from Bar Ilan University, and her BSc in Psychology from Oxford University. Previously she served as a psychologist at Hadassah Medical Center. Anna has been with Metiv since 2019, directing its evaluation and research work. 
Joel Wardi
Metiv clinical director
Joel Wardi has been the director of the clinical division of Metiv | The Israel Center for the Treatment of Psychotrauma since 2000. Joel obtained his M.A. in Psychology from Bar Ilan University and worked over the years with traumatic brain injury, Holocaust survivors and combat soldiers. He is a clinical psychologist and a senior supervisor of a group of therapists who work with a variety of traumatized populations.
Additionally, as part of the work at the center, Joel conducts community and group interventions with first responders and government professionals, including preparedness for traumatic events, early intervention after terrorist attacks, and community and individual post trauma treatment. Joel's special interest is in integrative trauma treatment modalities with special emphasis on the transition from a victim identity to a sense of agency.
Daniela Amir
Director of Community Relations
Daniela obtained her degree in social work from Hebrew University. Previously she served as program coordinator for the Jewish Federation of LA and as Jewish Agency Israel Fellow – Hillel at Davis and Sacramento